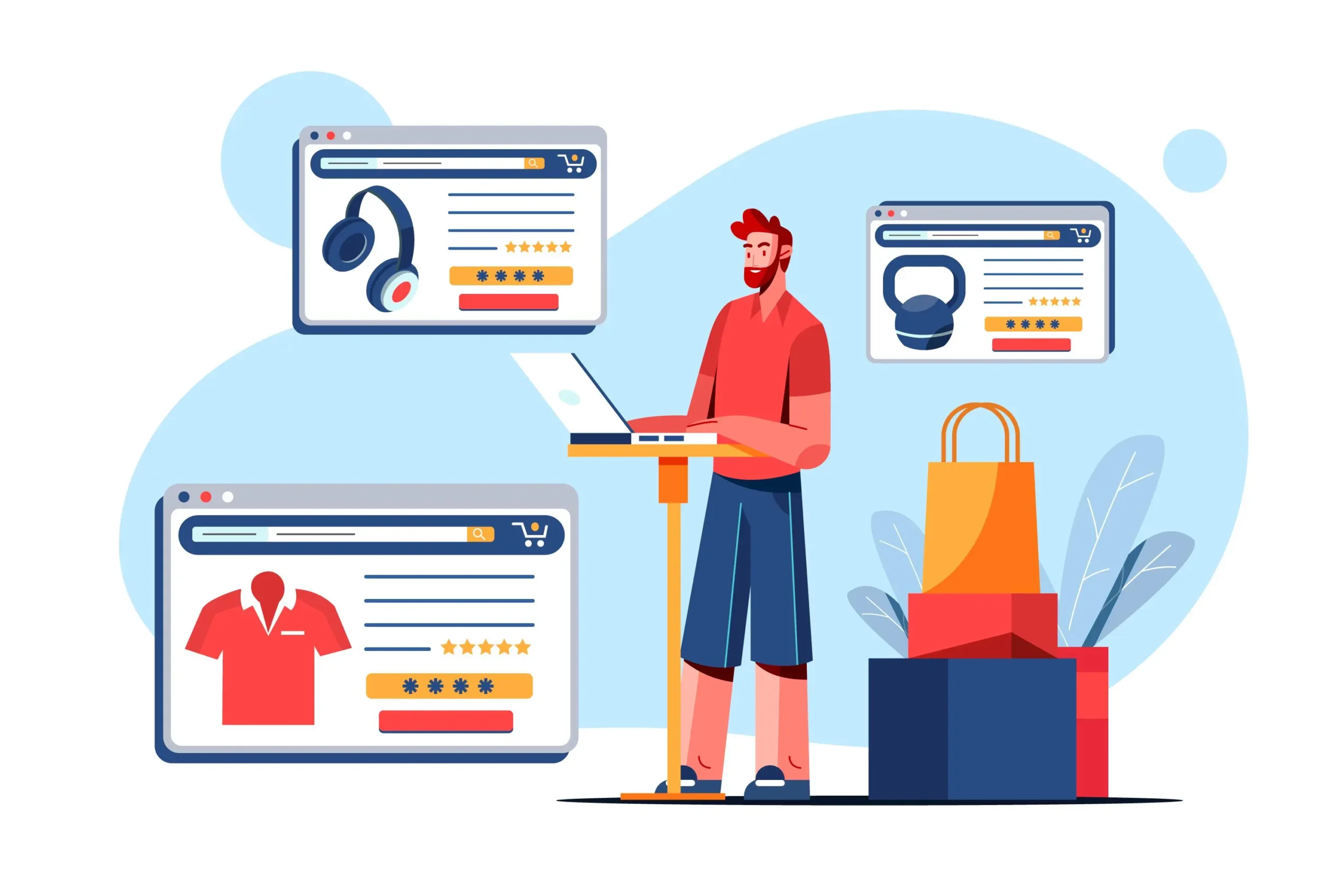 Websites for businesses and consumers have always inhabited separate markets regarding e-commerce and marketing. And for the most part, this makes sense. Since their business strategies are fundamentally distinct, B2B and B2C e-commerce typically provide very different goods and services.
However, a large number of companies operate in both the B2B and B2C sectors. These companies prefer to divide their online presence, develop two distinct online customer experiences, and sell to consumers and organizations.
In this article, we will discuss B2C eCommerce businesses, their benefits, the difference between b2b and b2c eCommerce, how to create such businesses, and more.
What is B2C eCommerce?
Business-to-consumer, or B2C, transactions are all about directly selling products to consumers. B2C used to be shopping in stores or eating at restaurants, but today it refers to online retailers interacting with their customers.
Popular examples of B2C marketplaces:
Amazon
Facebook Marketplace.
eBay
Marketplaces that provide B2C services have been increasing in popularity recently. And it goes beyond a simple assertion. We can demonstrate this precisely using numbers. In light of this, a new study by Grand View Research projects that by 2028, the size of the global B2C e-commerce sector will reach $7.65 trillion.
What Makes a B2C E-commerce Platform So Desirable?
Why do customers prefer purchasing online over going to traditional brick-and-mortar stores? To start with, customers appreciate the B2C website's perception of simplicity and security. They can quickly locate and buy whatever item they want.
Additionally, consumers began receiving more tailored experiences due to the widespread deployment of machine learning. They view products that are either catered to their particular needs or selected based on previous purchases.
What is the Main Difference between B2B and B2C Ecommerce?
The main difference between b2b and b2c is that business-to-business eCommerce allows companies to conduct transactions online and business-to-consumer eCommerce, on the other hand, involves selling directly to consumers.
For instance, the online retailer that sells office furniture online is a B2B enterprise. The B2B eCommerce business is also used by wholesalers, retailers, manufacturers, and wholesalers to carry out transactions. Also, buying a pair of shoes online or reserving a pet hotel for a dog are two examples of B2C transactions.
Some firms function as both B2B and B2C firms. For example, an event management firm might offer other firms wedding organization services and conference administration services.
The Advantages of B2C E-commerce Are Listed Below:
The greatest advantage of B2C eCommerce is its worldwide reach. Even modest enterprises operating out of homes can reach consumers around the world. This accessibility of selling everything around the globe guarantees success.
Consumers have traditionally been limited to purchasing B2C items in stores. Now, companies may reduce overhead costs by introducing eCommerce to their business, closing unprofitable brick-and-mortar stores, and spending less on marketing consumers may then be directed to the online store to make purchases.
An online presence allows you to gather more information about your customers and reach them in new ways. Using Google Analytics, you can learn demographic and psychographic information like consumer interests and values. This knowledge can help you construct an image of your customers and determine how you should interact with them through your website and other advertising materials.
It is difficult to track traditional marketing, but online marketing is easier to implement and track conversion rates. Google Analytics can provide information on how customers found your website, how long it took them to convert, and which page they converted. Using this information, you can build an eCommerce website that outcompetes your competitors.
B2C Dropshipping 
Plenty of Oberlo Merchants have succeeded with the Dropshipping B2C business model. Drop shipping is a profitable B2C business model that has been proven successful. With drop shipping, you only place product orders as they come in from your customers and don't hold any inventory. You don't have to worry about packaging, shipping, and storage costs, as these are covered by your supplier, who sends the items straight to your customers.
Small businesses can profit more and grow faster by adopting B2C drop shipping as a business solution. Because customers are dispersed worldwide, B2C drop shipping saves money on packaging and delivery while maintaining a strong brand that customers can trust.
What is B2C Marketing?
The B2C technique of marketing products or services to final clients is known as B2C marketing. The difference between b2b and b2c eCommerce marketing is that it attempts to arouse emotions and capitalizes on the brand's value rather than focusing on customer education and developing long-term personal relationships.
B2C marketers know that consumers make impulsive purchases and make buying decisions independently. Various factors, including a popular brand, high-quality customer service, convenience (free and fast shipping), and social validation, influence them.
Marketers must consider the best methods for each channel and audience when creating effective marketing campaigns for B2C. To do so, marketers must first segment their markets and tailor their messages accordingly.
The Best Approach to B2C Marketing
Before creating effective B2C messages and selecting the right campaign elements, B2C businesses must conduct extensive market research. To determine who their customers are, their preferences and pain points, what they desire, and where to find them, B2C businesses must conduct extensive market research. Marketing personas that represent specific market segments are frequently used to assist marketers in developing targeted marketing campaigns.
With the quick expansion of the eCommerce industry and the growing importance of social media channels, B2C marketing strategies are constantly changing. However, some of the most powerful approaches include:
Social media marketing and advertising
B2C content marketing
Loyalty and reward programs
Influencer marketing
Affiliate marketing
Creative contests
Giveaways and free add-ons
Mobile-first marketing
Functionality for Full-Featured B2C Marketplace
Businesses must make the enhanced user experience their priority as customers will return for repeat purchases if your B2C marketplace is convenient for buyers and sellers. The bare minimum functionality for your marketplace MVP has already been covered.
Consider some cutting-edge features that could enhance user experience.
Listings: Give B2C e-commerce businesses the freedom to update the details of their products and services. Make sure they can alter the specification, pricing, and description.
Filter: Filters make it easy and quick for visitors to find what they're looking for.
Wishlist: It allows consumers to compile a list of things they want to purchase.
Localization: It is an excellent concept to take care of international customers and let them select their own nation, language, and currency.
Push notifications: These are a technique that keeps customers informed about your goods and services.
Messengers and chat: Give both sides the resources for immediate communication.
Security features: B2C e-commerce companies take considerable precautions to protect their systems. Identity verification is a terrific technique to reduce risks and stop fraud. Additionally, you may safeguard your multi-vendor B2C marketplace using login history, limited login attempts, email or IP blocking, and other security measures.
Review and rating system: Permit users to post sincere reviews. Your b2c website credibility will grow in this way.
Popular Revenue Models
Membership: Give your paying members more chances to participate. But make sure you give them something worthwhile. If not, your customers can revoke their subscriptions.
Advertising: You can charge other companies for advertising space on your B2C marketplace to promote their goods or services. Try not to pitch it too forcefully, though. Banner advertisements and images are quickly frustrated by users. As a result, they are free to leave your platform. Publish advertisements exclusively in specific locations on your B2C e-commerce website to prevent such an error.
Commission: This tactic entails taking a specific portion of each transaction made through your B2C e-commerce platform. For instance, commission costs on Rakuten.com might range from 5% to 14.5%, depending on the product category.
Fee: Sellers should pay a set charge to list their products on your platform under this monetization approach. If your B2C e-commerce platform sells things that take a while to sell, this tactic will benefit you.
Which of the 5 Business-To-Consumer Models are Available in the Marketplace?
The five types of B2C models that are most common include direct sellers, community-based B2C, online intermediaries, advertising-based B2C, and fee-based. The direct seller model, in which things are bought directly from internet sellers, is the one that occurs commonly. In contrast, an online intermediary model would include businesses that link buyers and sellers, like Expedia. While Disney+, which costs a subscription to view its video-on-demand material, is an example of a fee-based business service.
Conclusion:
We have listed all points that you must consider to develop a B2C marketplace. Say strategies, revenue model, features, etc. Plus, you must have a little distinction between B2B and B2C marketplace. So, if you plan to develop one, this is the right time. You can hire the best eCommerce development company having prior experience.